Just added yesterday: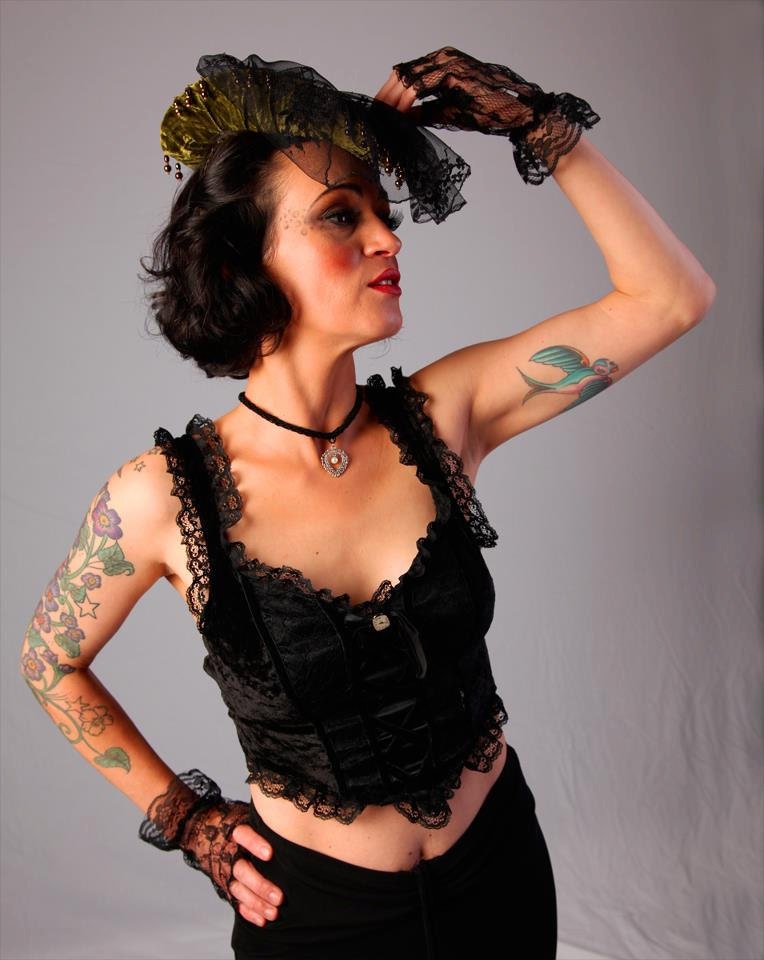 Black Corset Style Camisole with Antique Watch Dial (Size Small) & Free Gift
Black lace, velvet ribbon, and an antique watch dial pin adorn this alluringly stylish black velour camisole with corset style lacing in the front and adjustable. The watch dial pin is removable and was made from an antique watch dial. The cami has no boning and is very comfortable.
Great as either a costume piece or as lingerie.
Size Small (The fabric is stretchy, but this would probably best fit someone with a chest measurement of 32-34).
From the middle of the top of the chest portion to the longest part, the garment measures approx. 10 1/2 inches.
The corset cami comes with a free black braided choker with metal filigree heart. An artificial pearl hangs from the heart. The choker measures 12 1/2 inches without the chain and clasp and approx. 17 inches including the chain and clasp. It can be closed starting at approx. 12 3/4 inches up to almost 17 inches.
Listing:
http://www.etsy.com/listing/82973819/black-corset-style-camisole-with-antique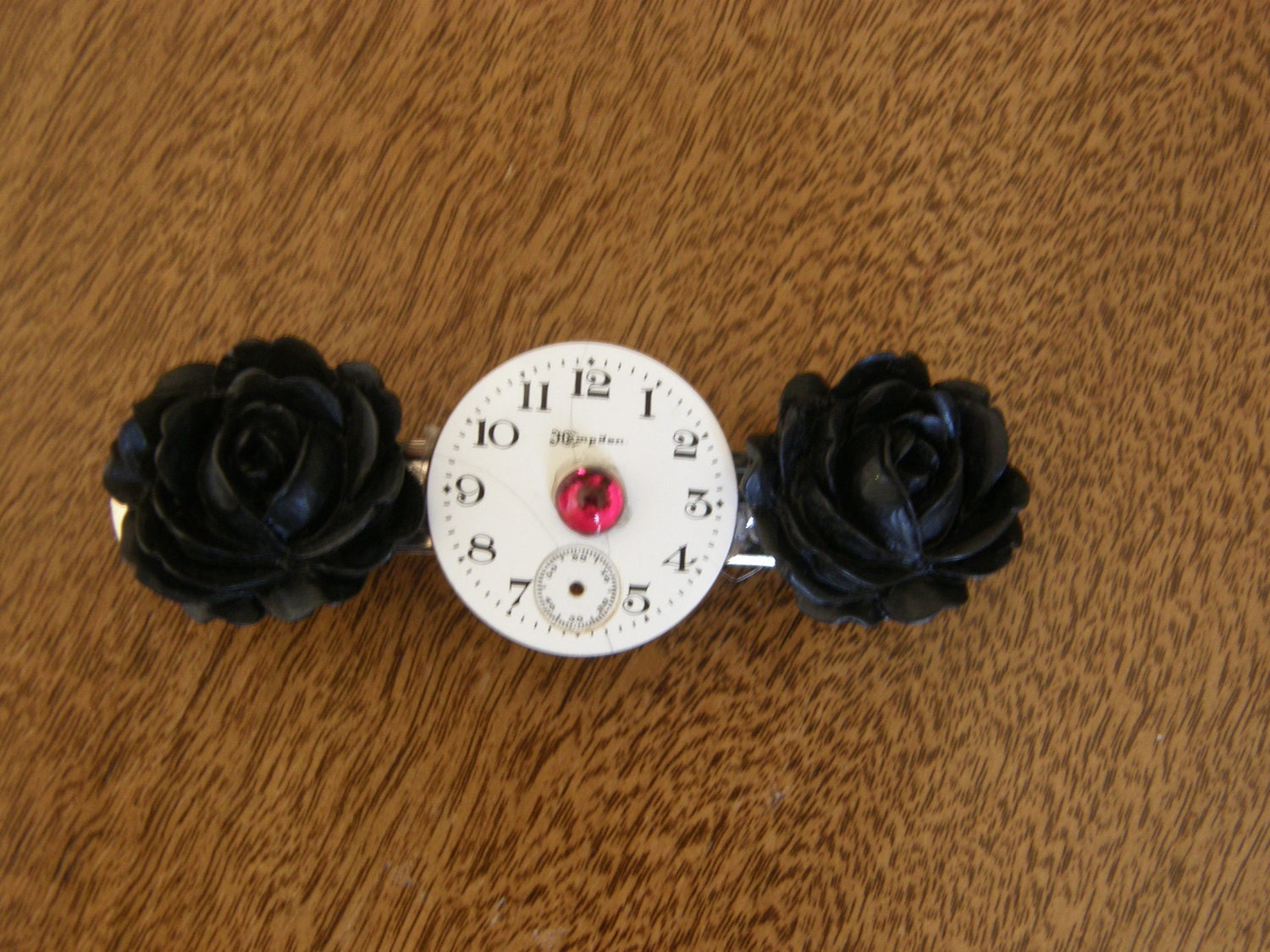 Antique Watch Dial and Black Rose Barrette
This darling French style barrette has two black roses made of resin and a watch dial with a red vintage cabochon in the center. The white porcelain watch dial is from the late 1800s - early 1900s. It has signs of age (a couple of minor cracks), which enhance its character.
Measures approximately 3 inches across. The watch dial and the flowers each measure about 1 inch high.
Made with non-toxic silicone glue.
Listing:
http://www.etsy.com/listing/82997978/antique-watch-dial-and-black-rose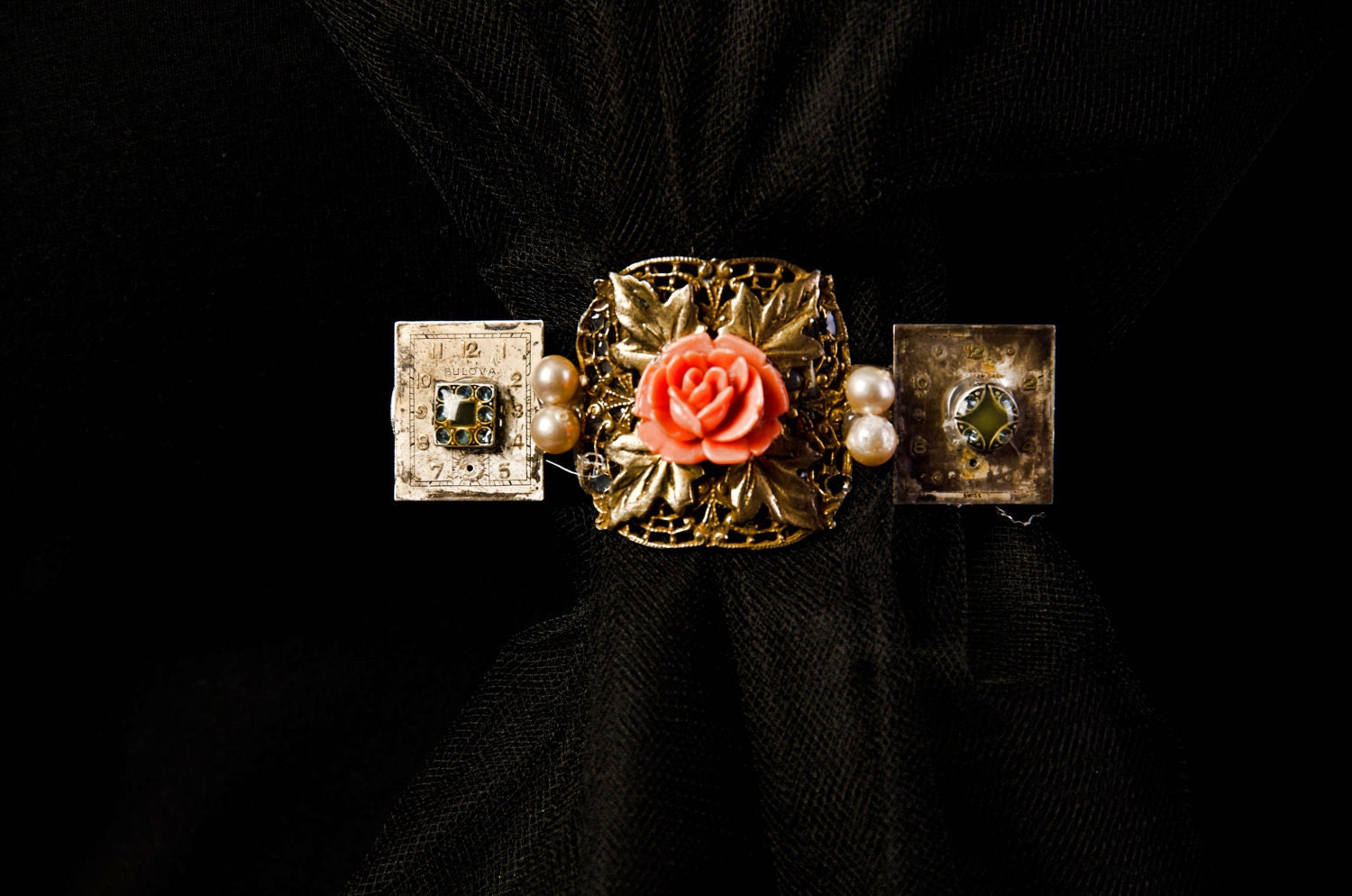 "Annabel" Pearl, Rose, and Watch Dial Barrette
With parts beautified by age, this French style barrette evokes nostalgic longing. The blue stones in the center of the watch dials came from a bracelet, the gold-toned center piece with coral rose came also came from a bracelet, and the pearls came from a necklace. Only the clip was purchased new.
Measures approximately 3 1/2 inches across. The watch dials are approximately 1 inch high and the center piece with coral rose is approximately 1 1/2 inches tall.
Listing:
http://www.etsy.com/listing/81678153/pearl-rose-and-watch-dial-annabel