The newest additions to
Secondhand Passion
: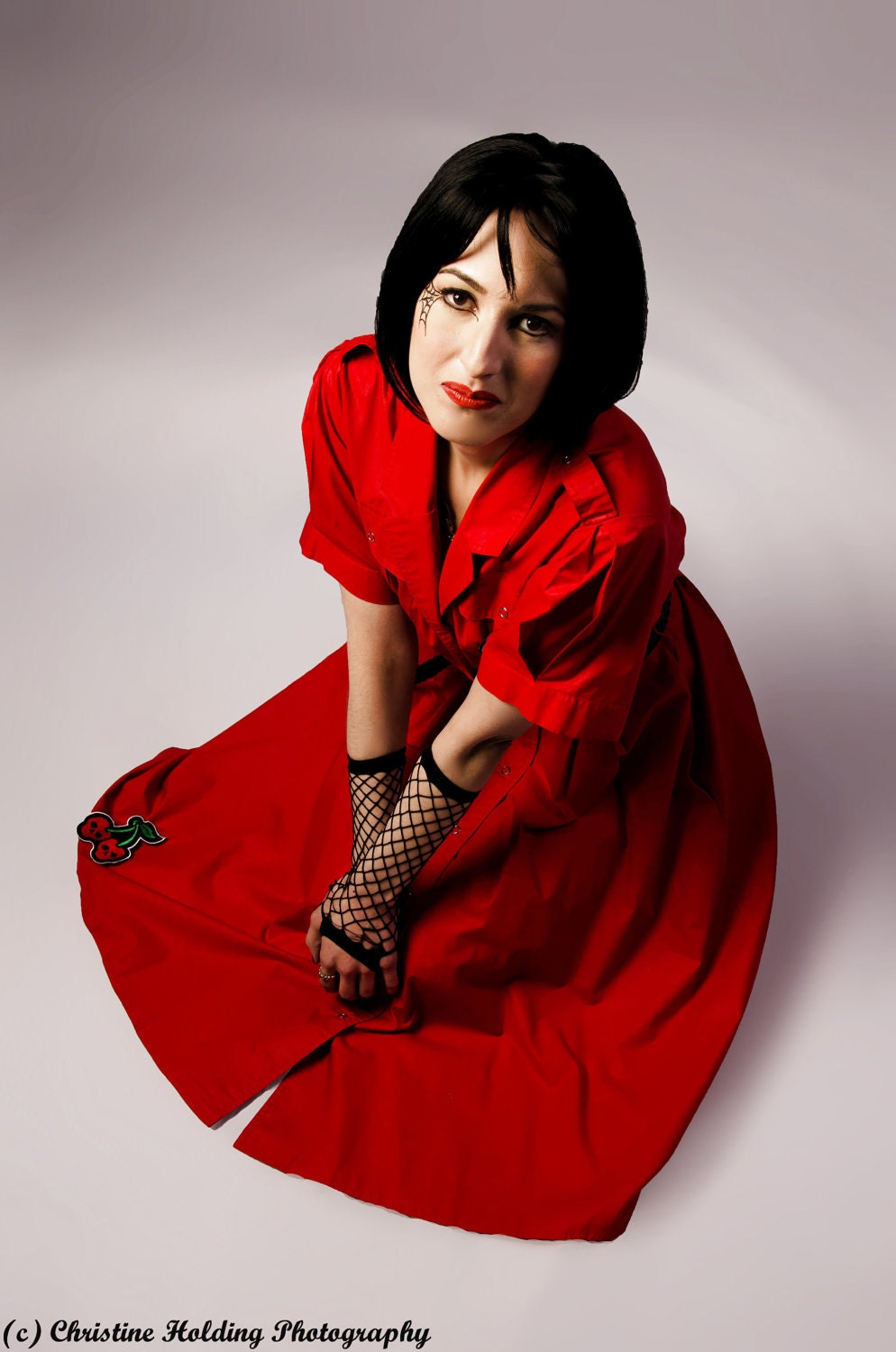 Radiant Red Rockabilly/Punk Vintage 1980s Dress
Perfect for the rock n' roll vintage lover! This 1980s collared V-neck red vintage dress with military tabs on the shoulders gives off a retro 1950s vibe. There are two pockets that close with silver-toned snaps on the chest. The dress also has metal silver-toned snaps that start at the bust and go down the front of the rest almost to the hem.
The 2 x 3 inch skull and 3 x 3 1/2 inch cherry/skull patches are attached to pin backings. Place them wherever you want and customize to your liking. For a different look, you can also remove them, or place them on a purse or other item.
Measurements (taken lying flat):
Length - Approx. 44 inches total / 26 inches (waist to hem)
Waist - Approx. 28 inches
Bust - Approx. 32 inches
Sleeves - Approx. 9 inches
There is no size listed on the tag, but it would best fit someone who wears a size XS/S.
It looks great with a black belt (not included).
Available here:
http://www.etsy.com/listing/81678570/radiant-red-rockabillypunk-vintage-1980s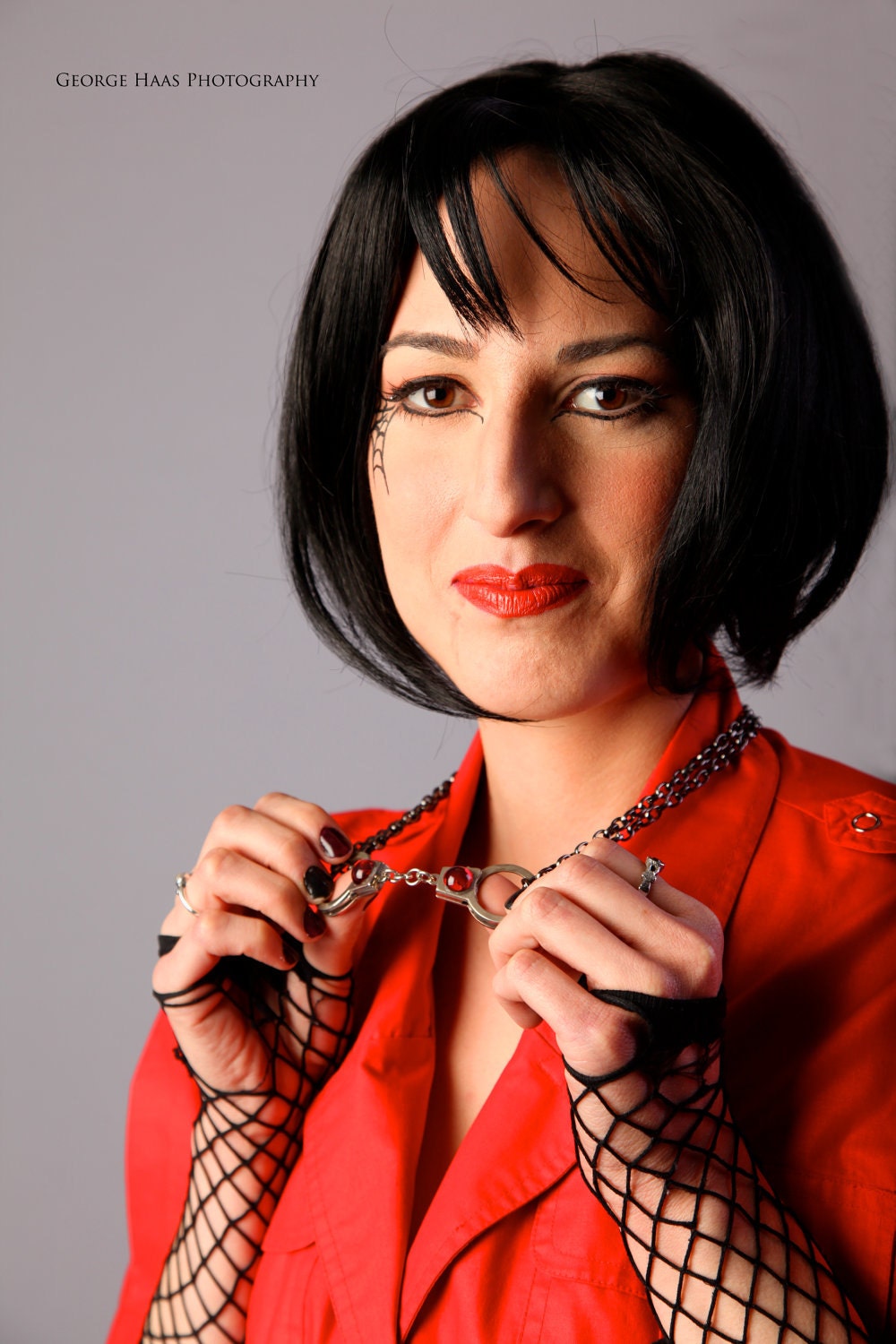 Upcycled Handcuff Necklace
This necklace is edgy and elegant. The silver-toned handcuffs came from a Tripp NYC garment. Two red vintage cabochons have been added for a touch of glam. The necklace is attached to a 16 inch chain resembling gunmetal. Each handcuff is approximately 1 inch. Both cuffs and links measure approximately 3 3/4 inches all the way across. With the cuffs and the chain, the entire necklace is approximately 19 3/4 inches. The cuffs have levers that open and close, which make the necklace easy to put on and take off.
Available here:
http://www.etsy.com/listing/82477773/upcycled-handcuff-necklace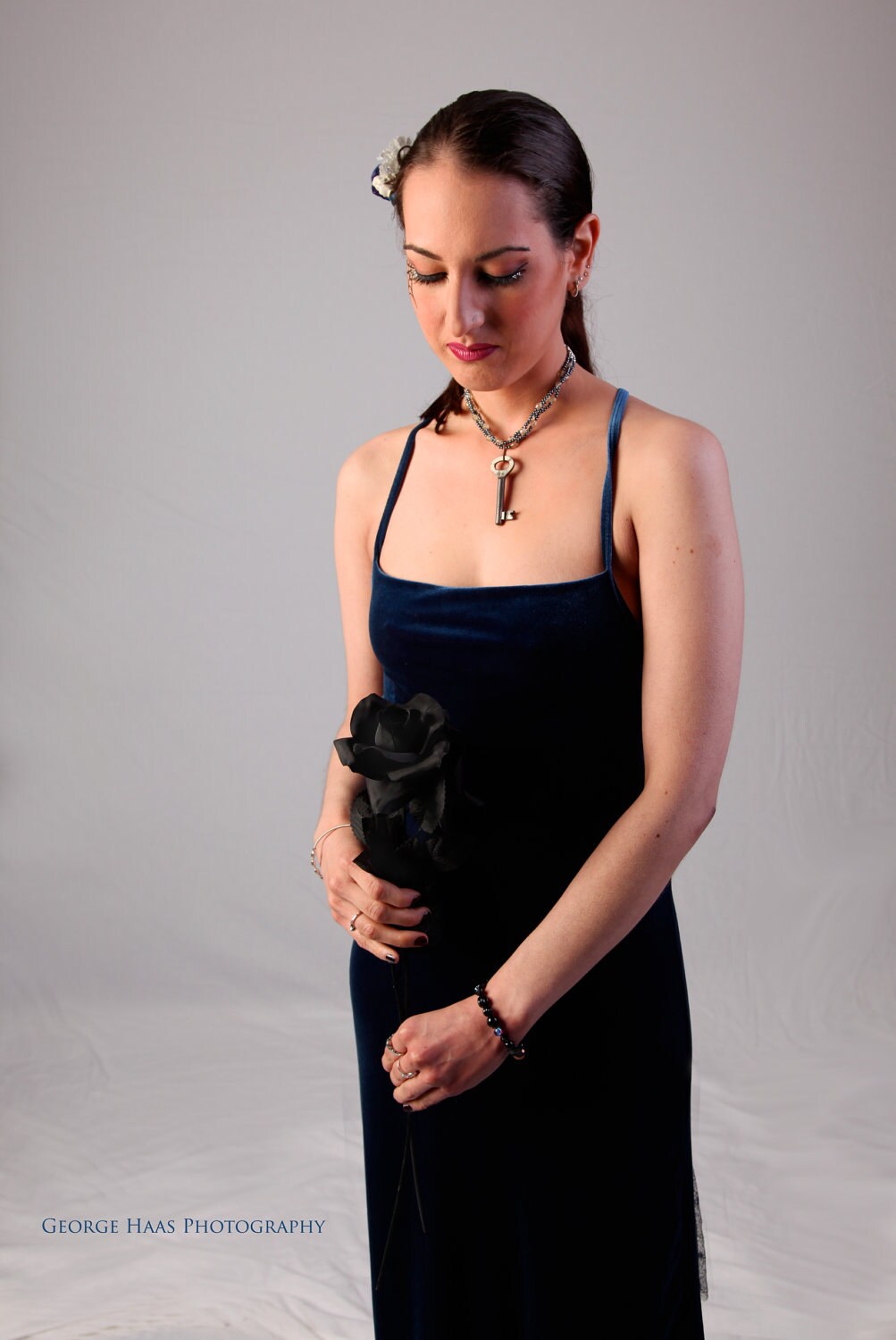 Upcycled Vintage "Clytemnestra" Bustle Dress Size Small
Just in time for Halloween!
This is a gorgeous 1980s vintage blue stretchy velour dress with a ruffled hem and a fun criss cross back. The bustle features a black ribbon bow and lace with silver and blue spider and cobweb print. The straps tie in the back and can be adjusted. The tag is labeled size Small.
Upcycled with two pins, one made with a skull bead and the other with a vintage iridescent purple/blue cabochon and metal escutcheon with floral design.
Measurements (unstretched and lying flat):
Bust - Approx. 30 inches total
Waist - Approx. 26 inches
Hips - Approx. 33 inches
Length (from bust to hem) - Approx. 37 inches
Brand: Pilot 10
Made in England
Available here:
http://www.etsy.com/listing/81765806/upcycled-vintage-clytemnestra-bustle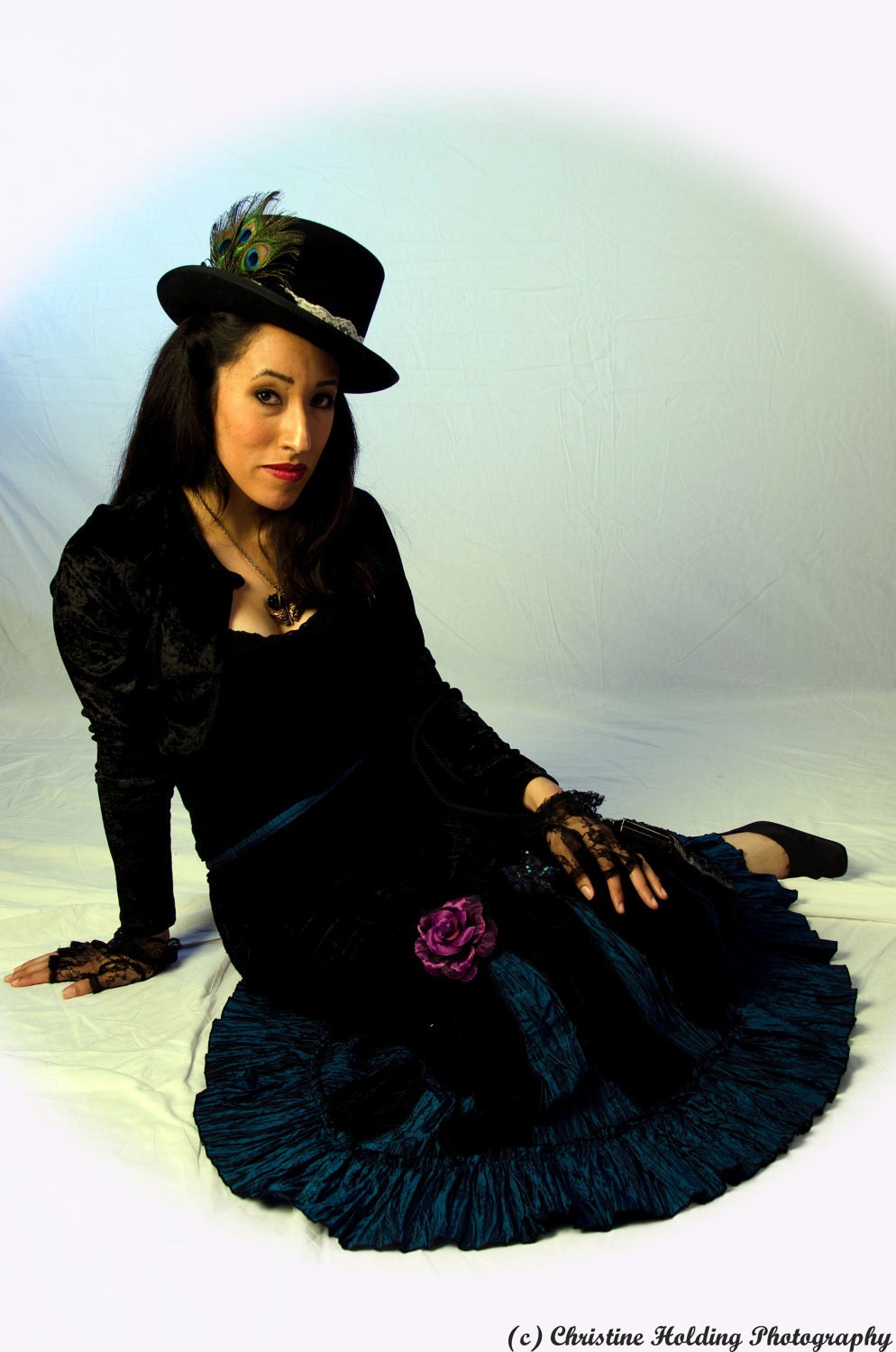 Upcycled Velour and Iridescent Blue "Marina Fleur" Skirt Size M
Black velour skirt has an iridescent blue ruffled hem. A purple satin rose with black organza petals (2 ½ inch diameter), a 3 inch black flower applique with multicolored sequins, and two black 1 ½ inch fabric roses add sparkle and flair. All of the flowers are removable and are attached to pins. The blue and the sequins glimmer in the light beautifully. Skirt zips in the back and is fully lined.
This would be a great component of a mermaid or fairy costume. It would also work well for a Goth night.
Brand:
Sylvie & Mado (Mill Valley, California)
Measurements (taken flat):
Length - Approx. 32 inches
Waist - Approx. 32 inches
The tag is labeled size M.
Available here:
http://www.etsy.com/listing/82288171/upcycled-velour-and-iridescent-blue