The latest additions to
Secondhand Passion
, my Etsy shop: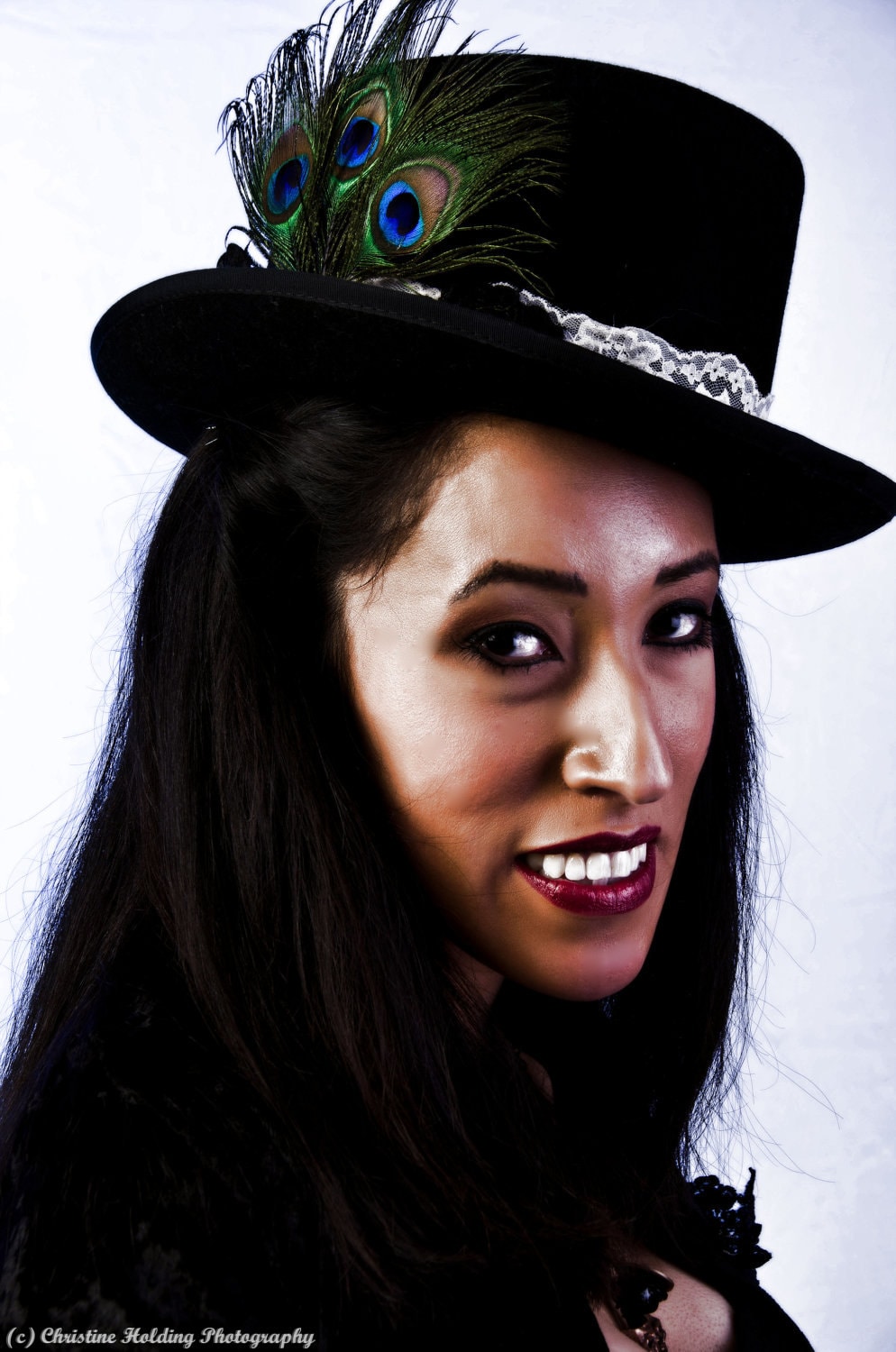 Upcycled Steampunk Top Hat
This vivacious upcycled black top hat has been decorated with a tiny antiqued skeleton key, cream-colored vintage lace, an antique watch dial with peacock feathers, and black flowers (millinery flowers and a black rose applique).
The watch dial with peacock feathers features a repurposed bracelet piece with blue stones. The dial, which came from a Cervine watch, is an antique, and was made somewhere between the late 1800s and the early 1900s.
The hat measures approx. 5 inches tall and has a circumference of approx. 24 inches. The hat itself is 100 percent and was made in the U.S.A.
This would be great for a Steampunk event or even Burning Man.
Listing:
http://www.etsy.com/listing/81764818/upcycled-steampunk-top-hat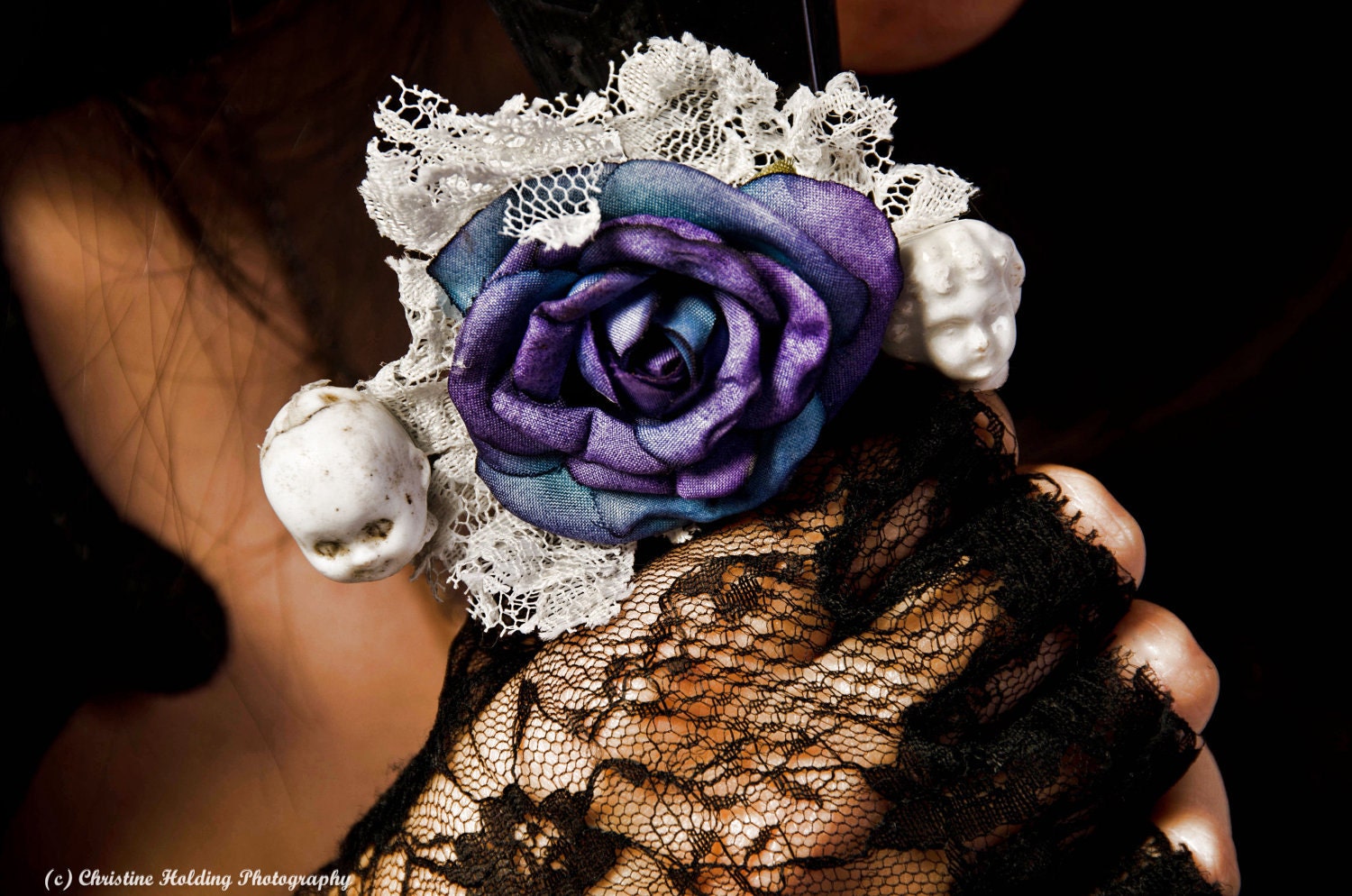 Doll, Lace, and Rose "Victoriana" Barrette


The barrette consists of a vintage purple and blue fabric rose, lace, and two antique frozen Charlotte heads. It's spooky, cute, classy, and charming all at once!
In addition to being worn in your hair, the barrette can also be clipped onto scarves, headbands, fans, and other accessories.
Measures 3 1/2 inches across.
Listing: h
ttp://www.etsy.com/listing/81677761/doll-lace-and-rose-victoriana-barrette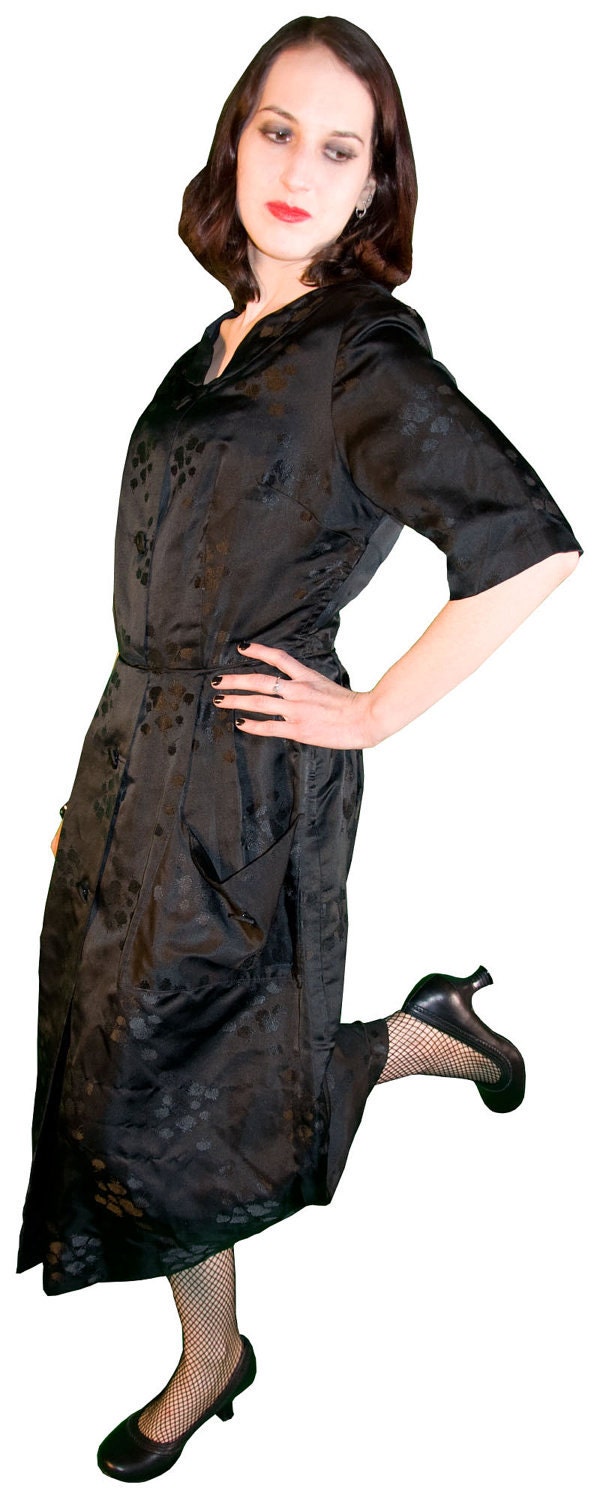 1950s Vintage Black Rose Floral Dress Size Small


Not your typical 50s housewife dress! This dress shines with elegance, but is also demure. It could work splendidly as part of a Halloween costume, as a cocktail party dress, or even as part of a rockabilly outfit. Be both classy and eco-friendly in this dress.
The dress features four covered buttons and two front pockets with two additional covered buttons. There is also a zipper on one side. The satin-like fabric with a lovely black rose pattern is durable. You don't see quality like this that often these days. You'll be able to enjoy it for years to come.
Measurements (taken flat):
From hips - Approx. 27 inches
Length of entire dress (neck to hem) - Approx. 43 1/2 inches
Sleeves - Approx. 12 1/2 inches each
Waist - Approx. 14 1/2 inches (front side) and 29 inches all the way around
The dress does not have a tag, but it would best fit someone who wears a modern ladies' size small.
Listing:
http://www.etsy.com/listing/81845533/1950s-vintage-black-rose-floral-dress

Vintage Westclox Bull's Eye Pocket Watch with Chain


Here is a vintage Westclox Bull's Eye wind-up silver-toned pocket watch. The clock is no longer working, but it makes a great accessory nonetheless. The watch is estimated to have been made sometime between the 1930s and 1950s.
The plastic crystal has a couple of cracks, but otherwise, the clock is in excellent condition. The diameter is approximately 2 inches and it measures approximately 2 1/2 inches tall.
It comes attached to an 18 inch embossed silver-tone chain with a 23 mm matte black-plated brass lobster clasp (looks like gunmetal).
This would make a fine addition to a Steampunk outfit.
Listing:
http://www.etsy.com/listing/81602077/vintage-westclox-bulls-eye-pocket-watch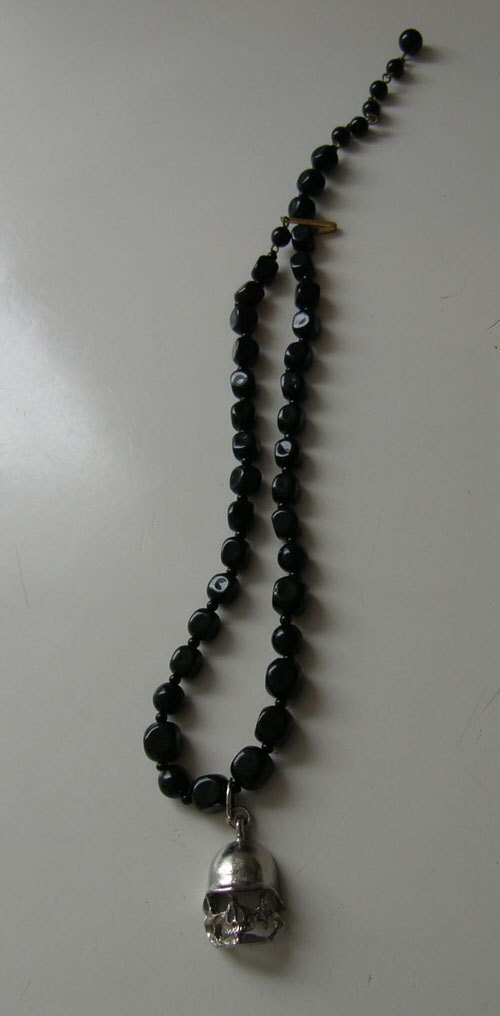 Skull and Black Glass Bead "Loviatar" Necklace
This black bead necklace, named after the Finnish goddess, is both elegant and edgy. The vintage 1970s skull pendant is connected to the black glass bead necklace by a silver jump ring. The skull measures approx. 1 inch tall and approx. 3/4 inch across.
The necklace measures 18 inches long. It can be closed starting at around 15 1/2 inches. Clasp is gold-toned and the beads rotate from small to larger.
Perfect for Halloween or all year long.
Listing:
http://www.etsy.com/listing/81601033/skull-and-black-glass-bead-loviatar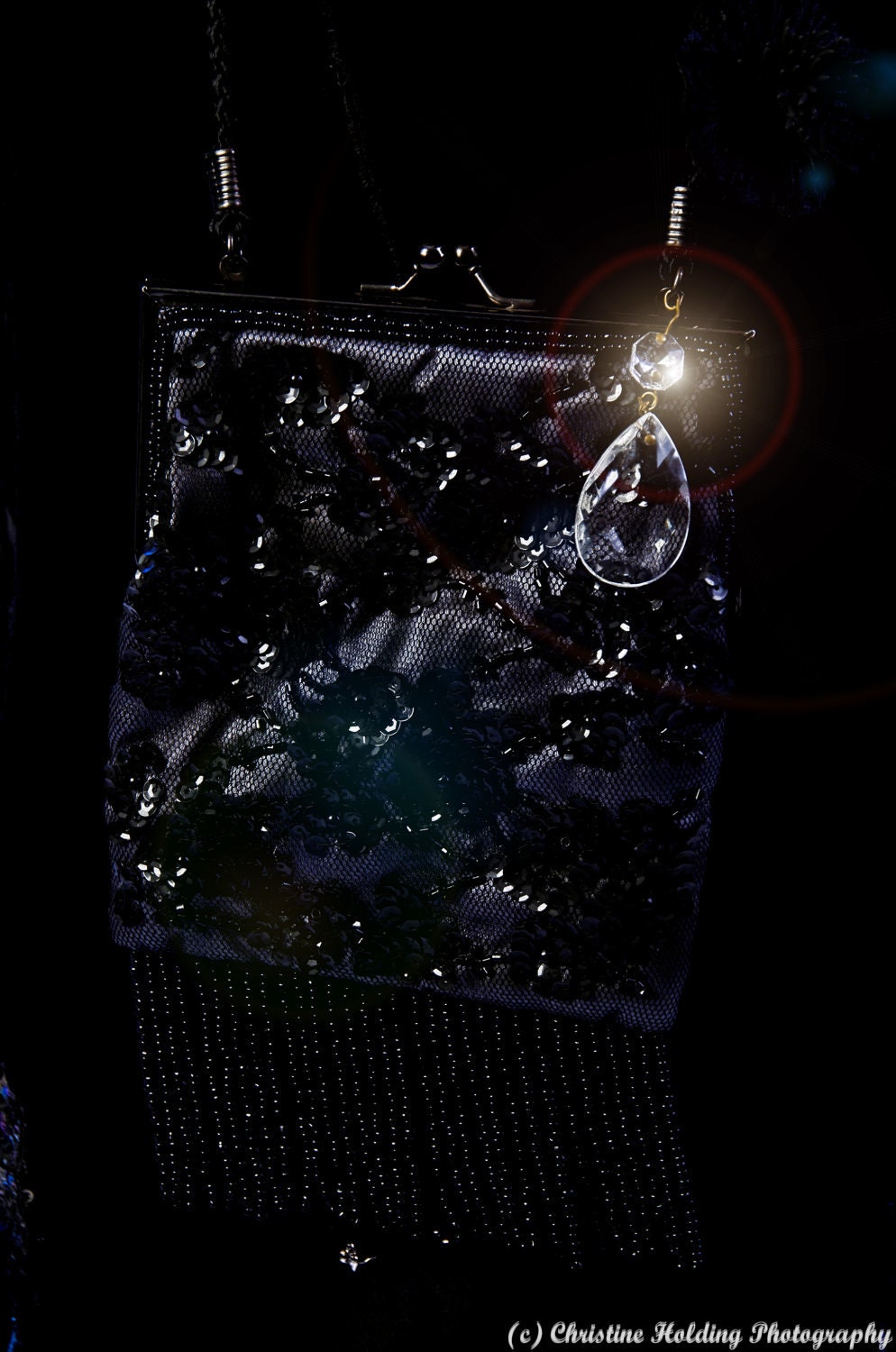 Upcycled "Eleanora" Sequined Purse
This beaded and sequined purse has been upcycled with a vintage chandelier crystal and a black millinery flower. The strap is a black braided rope. From the shoulder, it hangs down to about 32 inches including the beaded trim. Not including the rope and beads, the purse is approximately 6 inches tall, and with the bead trim, it measures approximately 9 inches not including the strap. Across, it measures approximately 5 3/4 inches.
It features a black floral pattern comprised of beads and sequins on black lace over grayish fabric. The bottom of the purse has a black beaded trim that hangs down, and it also has a beaded trim near the top.
It closes and opens with gunmetal-colored clasp. The rest of the metal on the purse is also gunmetal-colored. The crystal catches the light beautifully.
It's absolutely gorgeous and is perfect for a Steampunk event, cocktail party, or flapper outfit.
Listing:
http://www.etsy.com/listing/81809322/upcycled-eleanora-sequined-purse